A Tisket a Tasket what do we have in our Basket but a Bunch of adorable Yorkie Pups's  Price's vary because of Breed,Size,Gender Call for pricing and more pictures of new pups's not put on web site as of yet! Thanks♥
Miss Priss *Say's leave me alone I need my beauty sleep!!! And boy does she!!! A Grumpy young thing♥
I think these Yorkie baby's need to be put to bed they sure are sleepy...
            ♥ Maltipoo Girl and Maltese Teacup Boy  ♥
Little Boy White Male Maltipoo looks like the one in top picture♥Have a boy all white and  one cream boy also. And I do have a Red Toy Poodle Puppy with ch Bloodline's! Pricing please call for they vary.
These puppy's are sold
 but have some more born that will be ready for Christmas from same parent's!
 Stuff one of these baby's in your love one'stocking♥
Deposit will hold
Yorkie's last spring will look just like the baby's this fall! Cool
Yorkie Pups Have one girl only left and 2 boys! Cute as can be!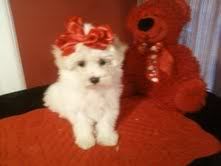 MAlSHI PUPPY'S Maltese & Shihtzu Don't shed both breeds are from the same "Terriers Group" Tiny and small!
Have a boy in the Black and White Ready now!
Malshi's  {Maltese and Shihtzu} Dont shed 3 to 6 lbs
Bubba cutest Boy
                  ♥ Biggest seller beside's Yorkie's ♥