It is time meet the Parents! and see just how cute the babys will be when older or cutier! My adults are very small with Big Personality's with great Temperments!! Most of the Dads are 3 to 4 lbs. Momas weigh 3 to 6 lbs! If I get thrown a bigger puppy will let puppy go for less. But if a Puppy is very tiny teacup size I will ask for more!
(Maltese) Daddy * Bam Bam Red Bow * (Maltese) Mommy * Molly * Pink Bows *And her sisters look like her Mopsy & Flopsy!
Twinkle Twinkle Little Star
Traditional (40 Favourite Nursery Rhymes [Emporio])
***** Mommy ***** Maltese Pregnant Here!
Mommy Maltese Very small five pounds* She has a round face short body and is ice white!
Hello...This is Baby... I do need to Schedule a appointment with my Doctor for a Wellness Check! I am aprox four weeks pregnant and starting to show! I am a year old Maltese and pregnant with a Young Handsome Teacup White Poodle! Yes! We are expecting Maltipoos and they will be exta tiny and teacdup size! We are excited here at BarKing Baby Town!.

Daddy Above * Previous Maltipoo from Daddy previous litter below! Idea of what puppys will look like but more tiny!
*Spanky* ♥ Shihtzu Daddy ♥
Future Stud!
Meet the Parents! ♥♥♥
 ♥ New mother to a yorkie puppy! ♥
Yorkshire Terriers ( Mommy and Daddy )
Will get a better picture of this Yorkie Stud Muffin!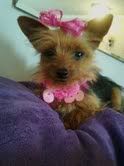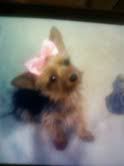 Sold our Foxy Roxy! She was just too tiny to Breed ! Stayed at around 31/2 pounds! .She was a little over a year old! But her Momma found her and couldnt but help and adopted this little sweet little Foxy Roxie Yorkie!
This Male is a young adult only weighing 3 pounds and is a teacup ♥
Meeting the Parents! Yorkie Parent's
Moma and Daddy 
New Young Mommy is 41/2 pounds! Miss Priss!
                  *** Yorkie Stud and SON*** Mom and Dad
Dad and son on left ♥
Daddy and Mommy Yorkshire Terrier's♥ Mommy was   pregnant in this picture♥
Moma Yorkie Teddy bear  ♥ 2 picture's of same mom!
Moma yorkie is going to have puppy's on left! Had Them and they are a few weeks old
Duchess on right sporting her xmas sweater!'
*Princess* Is a mother poodle! Small and Pretty!
Yorkie mommy up close five pounds below ♥ Teddy Bear color and marking's ♥
         * Barking Baby Poodle Mother's in play pen *
           *Young Adult Toy Black Poodle Mommy*